Cost-effective geared motors for hazardous areas
WG20 geared motors up to 18,000 Nm in energy efficiency class IE3 for explosionproof areas in Zones 1/21 and 2/22 available / New WEG EUSAS-EX motor 0.12 to 75 kW for Zone 2 and 22 presented
WEG, a global leader in drive technology, has introduced ATEX-certified WG20 series geared motors that also enable direct motor mounting. In accordance with Directive 2014/34/EU, the geared motors are suitable for explosionproof areas in Category 2, Zone 1/21 and Category 3 in Zone 2/22. In the case of the explosionproof geared motors for Zones 2 and 22 with ATEX motors, the motor can be mounted directly – negating the need for an adapter. WG20 gear units with IEC adapters are available for Zone 1/21. Complementing the WG20 geared motor range, WEG has designed a new EUSAS-EX motor that will be available with outputs of 0.12 to 75 kW in energy efficiency class IE3. The new universal EUSAS-EX motor thus complies with the upcoming EU directives (EC 640/2009), which will come into force on 1 July 2021.
"We offer WG20 geared motors with ATEX certification for applications in hazardous areas, such as oil and gas, the chemical industry or the food industry – for the first time, we are also offering an option for direct motor mounting for Zones 2 and 22," explains Adriano Della Giustina, Sales Manager of the WEG subsidiary Watt Drive. "The newly designed EX motor from 0.12 to 75 kW is designed with EUSAS wide-range winding which offers the additional option of voltage switching. Our geared motors for the EX area are not only space-saving, but also available up to energy efficiency class IE3, making them very cost-efficient. This means that the investment in energy-efficient drives pays for itself relatively quickly."

The helical, parallel shaft, and helical bevel gear units up to 18,000 Nm with outputs from 0.12 to 75 kW are robust and reliable. For Zones 2 and 22, they are available in sizes from IEC 63 to IEC 250. All EX geared motors can be designed up to protection class IP66 and are suitable for ambient temperatures from -20 to +40 °C. Another major advantage: Subject to compliance with specified drive parameters, the motors can also be operated with frequency inverters. Mounting modules such as brakes and encoders for hazardous areas are constantly being developed.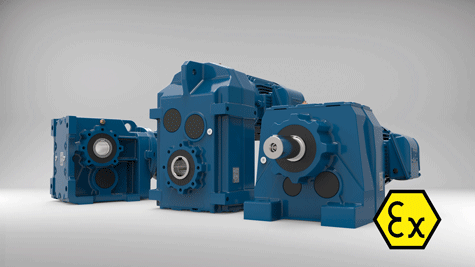 The explosionproof WG20 geared motors up to 18,000 Nm are available
for output power of 0.12 to 75 kW.

Explosionproof drives for the North American market too
The new EUSAS EX motors have a wide-range winding and can be used in EUrope, the USA or ASia, as they support a broad range of voltages and also offer the option of voltage switching. The fact that the new EX motor designs from 0.12 to 75 kW comply with the forthcoming EU requirements (EC 640/2009) for the environmentally compatible design of electric motors means that users have a number of advantages. For example, they can use the energy efficiency class IE3 across the entire power range of the WG20 geared motor series, even in applications in hazardous areas for Zones 2 and 22. The new motor also complies with the North American standard NEC/CEC Class I Division 2 and Class II Division 2. Class I designates areas in which flammable gases, vapours or mists can be found. Class II, on the other hand, indicates the occurrence of dusts. The frequency and duration of the occurrence of these substances define the hazardous areas as Division 1 or Division 2.

Direct motor mounting
The ATEX certified motors for Zones 2 and 22 are part of WEG's comprehensive range of products. The WEG Group has so far produced explosionproof geared motors by mounting IEC adapters with flange-mounted motors (IEC-B5). The motor can be directly mounted: This not only offers technical advantages, but also means there is no need for an adapter. This means that in addition to improved efficiency, the geared motor itself is more compact in size and therefore requires less space. As well as geared motors, the Watt Drive subsidiary also modifies WEG IEC standard motors (designs B3, B5 and B14) for ATEX Zones 2 and 22.

Sufficient protection in gas and dust atmospheres
For Zone 1/21, the entire range of WG20 gear units can be combined with W22X motors up to 75 kW by means of IEC adapters. All gear ratios of the WG20 gear type series and all drive and flange options are possible. The gear units are robust and reliable as they fully comply with ATEX standards. WEG's extensive line of explosionproof geared motors enables it to supply the right explosionproof solution for applications in both gas and dust atmospheres.